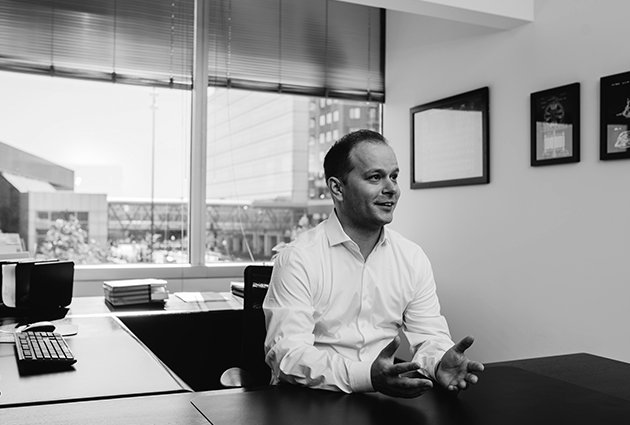 Joshua J. Conley
Patent Attorney
Josh has always been fascinated by the ways things work. As a kid he disassembled his 75 MHz computer and started a lifelong interest in machines, computing and processes. These interests continue to serve him as a patent attorney. He is an investigator, one who wants to get to the bottom of whatever he's working on. His passion for computers and chemistry have turned into a life spent learning. No matter the subject, Josh is always intrigued by the cleverness of a client's new idea or design. This enthusiasm carries over into his desire to protect and advance our clients' technological creativity.
Josh has called Iowa home all of his life. He attended the University of Iowa where he earned a degree in Political Science. After graduation, Josh continued a career in IT before attending Drake Law. While in law school, Josh also completed a degree in Chemistry. He was a member of the Drake Law Review, as well as various intellectual property organizations. Josh spent nearly three years as a law clerk at a personal injury firm where he was involved with the firm's litigation matters, including complex medical malpractice suits. After graduating from Drake Law with High Honors, Josh joined Zarley Law to contribute his education and experience in the fields of chemistry and computer science.
His experience and expertise in computer science and software, combined with his academic knowledge of the chemical and biochemical fields, provides Josh with unique insight, as these areas inevitably intertwine in today's innovative world.
Education
Drake University Law School
J.D., with High Honors
Drake Law Review
Drake University
B.A., Chemistry
University of Iowa
B.A., Political Science
Admissions
Iowa
U.S. Patent and Trademark Office
Technical Fields
Analytical Chemistry
Biological Chemistry
Inorganic Chemistry
Organic Chemistry
Computer Engineering
Information Technology
Operating System Engineering
Software/Application Engineering
Back to our Team