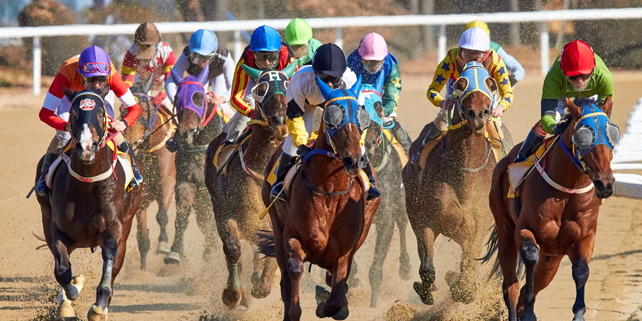 Horse Racing Legend Files Suit Against Amazon Days Before Kentucky Derby
The Kentucky Debry takes place this Friday and millions will be watching it. Among those millions of viewers are countless people who have no idea what is going on and do not have anything horse racing related to talk about. No worries, Dave Johnson has your back. Johnson filed a lawsuit against Amazon earlier this week in New York.
Who is Dave Johnson you ask? For those unfamiliar with thoroughbred racing, like myself, he is a legendary horse-race sportscaster that has commentated on thousands of horse races.
That doesn't really do Dave Johnson justice. He does a much better job in his complaint against Amazon, noting that he is a "world famous sportscaster" who "created, coined, immortalized, and, accordingly, trademarked" "one of the most renowned, recognizable, and famous phrases in sports and entertainment: 'AND DOWN THE STRETCH THEY COME.'" Johnson has been using the phrase for decades in the races he commentates on. The catchphrase has been a registered trademark since December of 2012 and claims usage going back to 1968. He also has a satellite radio show called "Down the Stretch."
Amazon was selling a shirt that has an image of a jockey above the phrase "AND DOWN THE STRETCH THEY COME." The listing for the shirt has been removed. Johnson is still seeking a wide range of monetary and injunctive relief, including all profits from the shirt and enhanced treble damages.
Amazon has responded to requests for comments by reiterating its usual talking point on the matter, namely that Amazon respects the IP rights of others and will take action against sellers on their site flagged as infringing. In fact, it is entirely possible that this is not a shirt that Amazon necessarily makes but may simply be selling for one of its thousands of sellers–the shirt has been found on other sites as well.
Johnson's desire to protect his slogan is not unusual. Many other announcers and broadcasters have taken action to protect slogans. Among these is Dick Vitale for his "awesome baby" line and the very well-known "Let's Get Ready to Rumble" that Michael Buffer originated. Earlier this year, Johnson also filed suit against the makers of the film "St. Vincent" because Bill Murray's character in the film shouts Johnson's catchphrase.
His actions might be a bit overkill. Amazon has a pretty great intellectual property management platform that allows for the reporting of listings that infringe on someone's IP. Instead of preparing and filing a 34-page complaint against Amazon, the short form on Amazon's page could have been used to remove the listing, which is normally processed within a few days.
Johnson's attorney indicated that Amazon was not responsive to their cease and desist letter. That really isn't surprising. With an organization as large as Amazon, sending in a cease and desist letter rather than using their forms will likely get caught up in the cogs of the massive corporation.
The path taken by Johnson can be a learning experience on how not to interact with online marketplaces like Amazon, eBay, Etsy, and others. Your best bet most of the time is to play by their rules if you want action to be taken with minimal delay and expense. Sending a letter from your lawyer will likely fall flat on its face.
From my experiences with these different retailers, there are some quirks with each reporting system. Sometimes just filling out the form will not get the response you want the first time around. Working with an attorney who is familiar with each retailer's system can be worth the limited expense to get a quick and easy resolution on the first try most of the time.
If for some reason you have a bad taste in your mouth about Johnson's tactics, don't. Johnson isn't doing this for personal riches or fame. He is already famous and he donates the majority of the proceeds related to his trademark to horse-race related charities.
In case you have an issue with Amazon, it is worth noting that the listing has been removed. In its place is one or many images of the over "6,000 pups that 'work'" at Amazon.
Share This Post