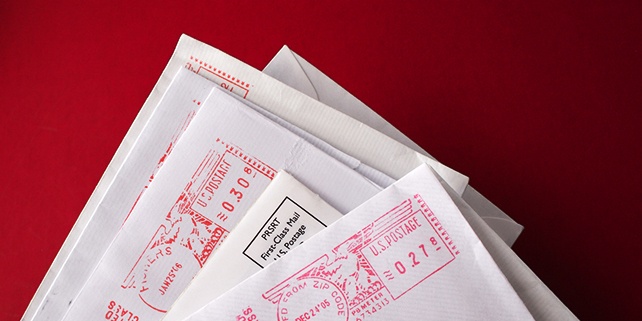 Trademark-Related Solicitations and How to Avoid Them
Trademark applicants should be aware of an ongoing scam involving notices sent by private companies. These companies commonly have names that resemble official government agencies, and notices appear to be correspondence from the United States Patent and Trademark Office (USPTO). For example, the notices will alert you of an upcoming filing deadline and often request a fee to be paid. While some of these solicitations might actually offer legitimate services, others are outright frauds, and trademark applicants should beware.
What are trademark-related solicitations?
Because the USPTO publishes information related to trademark applications in a public database, private companies are able to use this information to solicit applicants for services—both real and fraudulent. Oftentimes, these solicitations offer services related to filings or renewals. Some of these private companies might offer legitimate services, but at prices suspiciously lower than the usual market rate, indicating that they probably won't be doing much to assist in obtaining registration. Others are simply scams, such as offers to get trademarks listed on a "private" registry.
How to spot trademark-related solicitations
Having an attorney prepare and file your trademark will simplify the process of identifying misleading solicitation. If you are using an attorney to obtain a trademark, then receiving any correspondence that appears to be from the Trademark Office should immediately raise a red flag. For all legitimate communication, the USPTO sends all notices and office actions to the attorney of record. This means that if you are receiving any communication related to your trademark application and it didn't come from your attorney, you should be suspicious.
Otherwise, careful examination of the notice will often reveal solicitations and scams. Any official communication will come from the "United States Patent and Trademark Office" in Alexandria, Virginia. Companies will often try to use official and similar sounding names, such as "Patent & Trademark Office" or other variations of "U.S.," "Agency," "Trademark," or "Registration." The fine print will typically be an indicator that the message is unofficial because it will state that the solicitor is not affiliated with the USPTO or will indicate the solicitor's further action with the USPTO. Also, all official emails will come from the @uspto.gov domain, so beware of any other domains. Some companies may use domains that are slightly misspelled or appear to be official.
Some companies may even use official government data that is available from public records, which can make it hard to determine whether the communication is official or not. However, a simple inspection of any correspondence that you receive should reveal whether it is legitimate or fraudulent.
What to do if you receive a trademark-related solicitation
If you have received one of these solicitations, you can file a complaint with the Federal Trade Commission (FTC) here. You should also report these solicitations to your state's consumer protection agency as well. For Iowa, you can file a complaint here. Most importantly, you want to avoid responding or sending any money to the solicitor. If you are unsure about what to do, you should contact your trademark attorney.
Scroll through the images below for examples of scam correspondence:
Share This Post