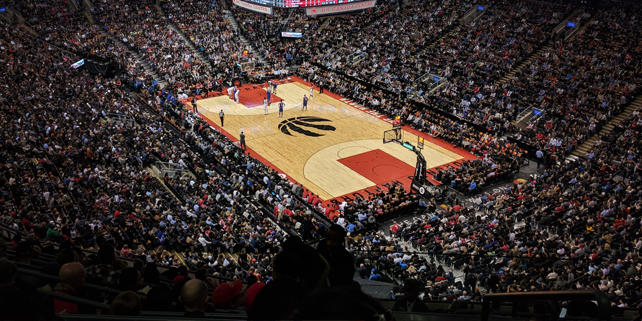 Kawhi Leonard Fighting for NBA Title And His IP
As if Kawhi Leonard didn't already have his hands full with the Golden State Warriors, now he's got Nike's legal team to worry about. Just last week, before the dust had settled after Game 2 of the NBA Finals, the Raptor filed a declaratory action against Nike, alleging that Nike fraudulently registered Leonard's logo, the "Klaw," for a copyright. In its application, Nike claimed it was the author of the logo, not Leonard.
For those who haven't seen it, the logo in question is in the shape of a hand and features the characters "K," "L," and "2" in stylized font, referring to Leonard's initials and his long-worn jersey number. The hand shape is supposedly a trace of Leonard's own hand, in reference to his reputation for having distinctively large hands. In the complaint, Leonard's attorneys argue that Leonard had authored the unique logo in 2011, on his own, soon after being drafted into the NBA.
The genesis of the dispute arose during the course of Leonard's endorsement deal with Nike. As part of the deal, Leonard allowed Nike to use the logo on certain Nike-branded goods, and Leonard continued to use the logo on non-Nike goods. At some point along the way, however, Nike registered the logo with the copyright office. Leonard asserts that he never transferred his rights in the Klaw to Nike, pointing out that Nike's own representatives referred to the logo as "Kawhi's Logo," and that Nike's copyright application refers to the design as the "Kawhi Leonard Logo."
Several material facts are in controversy. For instance, in his complaint, Leonard acknowledges that Nike proposed several related designs to him for use on Nike products, all of which were based on Leonard's original Klaw logo. While rejecting most of them, Leonard accepted one proposed in 2014 and granted Nike permission to affix that logo to Nike merchandise. In the copyright registration, Nike claimed the logo was first authored in, you guessed it, 2014.
Now that Leonard is free of his Nike deal, he wants to use the logo for his own apparel and that of companies with whom he is affiliated. This includes New Balance, the shoe company, who signed Leonard to a multi-year endorsement deal just last November. Leonard attempted to persuade Nike to rescind its copyright in the logo, but was rebuffed. Nike responded that it owned all intellectual property rights in the logo and, further, that Leonard cease and desist from his unauthorized use of the logo. Since Nike has yet to file its answer, it's still unclear how it will respond.
However, given Leonard's crushing performance against Steph Curry and the Warriors, it doesn't seem like he's one to go quietly. Stay tuned for updates.
Share This Post