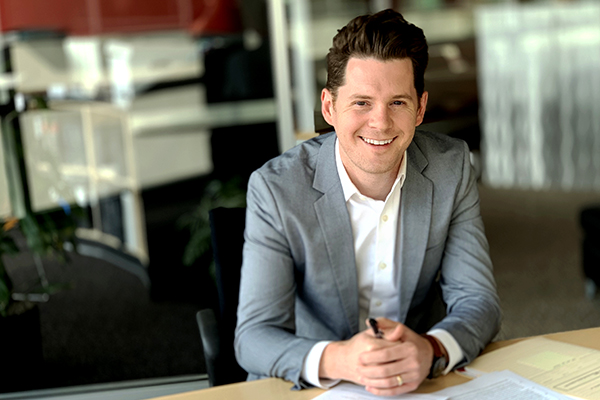 John D. Gilbertson
Intellectual Property Attorney
If you asked for some words that best describe John, "creative" would have to be near the top of the list. With over a decade of experience in the media and entertainment industry, John delivers a unique approach to trademark, copyright and business law to tactically build the strongest protection possible for creators, innovators and business owners. His approach was forged from firsthand experience managing commercial recording studios as well as producing and engineering records for major labels.
Having lived and worked in Nashville and Los Angeles for a majority of his career, we're glad he decided to boomerang his way back to his hometown of Des Moines. He earned a J.D. from Drake University, and now lends his expertise as an Associate for many areas in the firm including start-ups, media, and litigation.
Not only does he guide clients through the intricacies of intellectual property law with ease, but he's also a bit of a wordsmith. He was recently recognized onstage during GRAMMY Week 2020 as runner-up in the Entertainment Law Initiative, a national legal writing competition sponsored by the Recording Academy. We admit that he does bump up the cool factor of our office by a few notches, but he's best known for his dedication to finding the most effective solutions for our clients.
Some of John's publications include:
Blunt Advice: A Crash Course in Cannabis Trademarks

Vol. 60, IDEA: The Law Review for the Franklin Pierce Center for Intellectual Property, 2020

Play It Again, Sam: The Free-Market Case for Government Intervention in the Music Streaming Sector

Vol. 36, ABA Entertainment & Sports Lawyer, Spring 20206, ABA Entertainment & Sports Lawyer, Spring 2020

Grassley Brings Harmony to Work on Music Licensing

Des Moines Register, Mar. 3, 2020
Education
Drake University Law School
J.D., with Honors
Drake Journal of Agricultural Law
Berklee College of Music
B.A., cum laude, Music Production & Engineering
Admissions
Iowa State Bar
Technical Fields
Trademarks
Copyrights
Trade Secrets
Contracts & Vendor Agreements
Cybersecurity, Data Breach, & Privacy
Business Formation
Licensing & Regulation
Litigation
Non-Legalese Facts
Proud papa to a sweet English bulldog named Betsie
Thinks the best time of the year is the Stanley Cup Playoffs
Owns more pairs of boots from Red Wing Shoes® than we think is healthy
Back to our Team